Privacy Policy
PLEASE READ THIS PRIVACY POLICY CAREFULLY. THROUGH THIS PRIVACY POLICY, YOU ARE AGREEING TO BE BOUND BY THE PRIVACY POLICY OF PANASONIC. IF YOU DO NOT AGREE WITH THE PRIVACY POLICY OF PANASONIC AS SET FORTH HEREUNDER, YOU ARE ADVISED NOT TO USE THE PRODUCTS AND CLICK "DISAGREE/DECLINE" BUTTON. PLEASE NOTE, THIS PRIVACY POLICY IS TO BE READ ALONG WITH THE TERMS AND CONDITIONS OF USE OF PRODUCTS MANUFACTURED, PRODUCED, SOLD, MARKETED OR DISTRIBUTED BY PANASONIC AND BY AGREEING WITH THE PRIVACY POLICY, YOU ARE ALSO AGREEING WITH THE TERMS AND CONDITIONS WHICH IS AVAILABLE AT https://www.panasonicproclub.global/BD_en/policy/
Privacy Policy
Panasonic respects the protection of your personal information and your privacy and is committed to protect such personal information, data and your privacy. This Privacy Policy (together with our Terms of Use) explains Panasonic's privacy practices and of the choices you can make regarding the way your information is collected through our website: www.panasonicproclub.global ("Website"), and how that information will be processed by us in accordance with the applicable data protection laws and policies. Please note that Panasonic may make amendments, by way of alterations, addition, or subtraction, to this privacy policy at any time without prior notice and will notify you of any such amendment via our Website or by email.
This Privacy Policy applies to all End Users residing in Bangladesh at the time of the collection of personal information (PERSONAL INFORMATION) or data and/or Sensitive Personal Data or Information (SPDI). If an End User resides in any territory outside Bangladesh, and this Privacy Policy is not acceptable to the End User or the applicable law of the End User's country of residence does not allow the acceptance of this Privacy Policy then such End User is advised to not access and/or use the Product(s).
This Privacy Policy should be read in conjunction with the terms of use applicable to the access and use of the Products.
This document is an electronic record in terms of Information and Communication Technology Act, 2006 and rules thereunder. This electronic record is generated by a computer system and does not require any physical or digital signatures.
The End User's access and use of the Product(s) is deemed to constitute the End User's unconditional and irrevocable consent to the collection, possession, storage, processing, dealing in, handling, transfer, sharing, and/or disclosure, of PERSONAL INFORMATION, and the End User's irrevocable consent to and acceptance of the terms of this Privacy Policy.
Definitions: For the purposes of this Privacy Policy, the following terms shall have meaning(s) as ascribed below:
(i) "End User(s)" means and includes all Users, Owners, Architects, Consultants, Designers, M&E Contractors, Installers, Technicians, Dealers, Distributors of the Product(s), and also include the following:
(a) Users using or benefitting from Panasonic's customer service and/or training programs;
(b) Users using or benefitting from Panasonic's sales and marketing programs.
(ii) "Panasonic" means Panasonic Appliances Air-Conditioning (M) Sdn. Bhd, Malaysia, its group companies, affiliates, subsidiaries, in Malaysia or on other parts of the globe, including Panasonic India Pvt. Ltd
(iii) "PERSONAL INFORMATION" bears the meaning ascribed to it under the applicable laws, and includes any SENSITIVE PERSONAL DATA OR INFORMATION collected from End User(s) as detailed in this Privacy Policy. For the avoidance of doubt, PERSONAL INFORMATION consists of any information that relates to an identified or identifiable individual, including any information which does not identify an individual but that Panasonic links to such individual.
(iv) "Products" means and includes the following:
(a) Website available at ¬https://
(b) any software, website, application, digital/online platform owned and/or operated by Panasonic
(c) any information, documentation, reports, data of appliances, electronic products manufactured, sold or distributed by Panasonic.
1. Collection and Use
1.1 Type of Information
In order to access the Products, Users are required to register by providing their personal information and/ or business information with Panasonic. Personal information shall mean the personal data as defined under the applicable laws and are referring to those information that relates directly or indirectly to an individual or is identifiable to an individual.
PERSONAL INFORMATION collected by Panasonic and/or, as provided by the End User pursuant to or during the course of access, use of any Product, including, when you submit the "Create my Account" Form may include the following:(i) Any information provided by the End User, including information provided by an End User to Panasonic's customer service representatives or Products or Website. Panasonic may also create logs/reports that are useful in diagnosing Product or Website performance related issued, and capture information relating to the same;
(ii) Contact information including name, surname, company, email id, address, contact number, country, location, End User's company Name, company number, Panasonic Customer Reference, Business Address, business/personal contact details, business e-mail address, designation/ position, location tracking/Global Positioning System (GPS), your business preferences
(iii) Payment details such as credit card/debit card details, banking related information, information provided pursuant to electronic/cashless transaction(s);
(iv) Uniform resource locator, IP address, unique device identifiers, settings of the device used by an End User to access the Product(s);
(v) Log information such as the time and duration of End User's use of the Product(s), search query terms, any information stored in cookies;
(vi) Business contact details of the End User such as location of business premises, contact number, fax number;
(vii) Usage behaviour including Product preferences;
(viii) Operating system, browser type, browser version, browser configuration, name of internet service provider, and other types of computer and connection related information relevant to identifying End User's type of device;
(ix) Pages, links, websites visited or access during the course of access or use of the Product(s);
(x) Information provided while subscribing to Panasonic's promotional communications and newsletters;
(xi) Any other information provided by an End User and/or collected by Panasonic.
For certain activities such as marketing activities or promotional materials, Panasonic offers you an opportunity to opt in and opt out from receiving such marketing or promotional materials at any time. You may opt out or select the "unsubscribe" option provided in Panasonic's email blasts or you may contact Panasonic at the details provided in Section 5 below.
1.2 Personal Information: Without limiting the deemed consent pursuant to the use or access of the Products, the End User, hereby, also expressly, unconditionally, and irrevocable consents to the collection, possession, storage, processing, dealing in, handling, transfer, sharing, and/or disclosure, of SENSITIVE PERSONAL DATA OR INFORMATION by Panasonic.
The End User further, expressly, unconditionally, and irrevocable consents to the disclosure of PERSONAL INFORMATION including SENSITIVE PERSONAL DATA OR INFORMATION by Panasonic as set forth in this Privacy Policy.
In the event the End User does not wish to consent as per this paragraph, then the End User has the option to not use/access the Product(s). All information requested for in the relevant forms and marked with * are mandatory fields unless stated otherwise. If you do not provide us with such information, we would be unable to complete the registration process or to process your request and/or provide you with relevant services.
Panasonic will have the right to retain PERSONAL INFORMATION including SENSITIVE PERSONAL DATA OR INFORMATION for as long as is necessary to fulfil the 'purposes' set forth in this Privacy Policy. The storage of PERSONAL INFORMATION including SENSITIVE PERSONAL DATA OR INFORMATION SENSITIVE PERSONAL DATA OR INFORMATION for any longer period shall be undertaken in accordance with requirements of the applicable laws of Bangladesh.
PANASONIC INDIA PVT. LTD. WILL COLLECT THE INFORMATION ON BEHALF OF PANASONIC APPLIANCES AIR-CONDITIONING (M) SDN. BHD, MALAYSIA AND BY AGREEING TO THIS PRIVACY POLICY, YOU ARE GIVING CONSENT TO PANASONIC, INCLUDING PANASONIC INDIA. PVT. LTD. TO COLLECT, USE AND STORE YOUR INFORMATION IRRESPECTIVE OF INTERNATIONAL BOUNDARY LINE.
2. Purposes
Panasonic preserves the right to use the information it collects for further processing as required or permitted by law and to give effect to the following:
•(i) To make available the Products to the End User, including to enable End User(s) to create a profile to use the Products;
(ii) To register End User(s) or their devices or products for any of Panasonic's Products;
(iii) To conduct surveys in connection with End User's usage/experience with the Products;
(iv) To improve the efficacy, efficiency, quality, and to enhance the user experience of the Products;
(v) To support and maintain the Products including for providing support to End Users;
(vi) To identify, assess, evaluate user behavior, preferences and expectations, in relation to various products and services;
(vii) To protect the End Users (e.g. to prevent spam or attempts to defraud users of Products); to operate and maintain the security of the Products (e.g. to prevent or stop an attack on Panasonic's systems or networks); or to protect the rights or property of Panasonic, including enforcing any terms or agreements governing the use of the Products;
(viii) To communicate with the End User(s), including communicating with End User(s) about the End User's account, profiles or transactions with Panasonic, giving the End User important information about Panasonic's Products, endeavouring to send the End User notice about any material changes to the Privacy Policy;
(ix) To manage corporate transactions involving Panasonic including reorganization, merger, transfer, sale, joint venture, assignment or other disposition of all or any portion of Panasonic's business, assets or stock, including, without limitation, in connection with any bankruptcy or similar proceeding;
(x) To accomplish Panasonic's legitimate interests which include:
• To benefit from cost-effective Product(s) (e.g. Panasonic may opt to use certain platforms offered by suppliers);
• To protect the security of Panasonic's IT systems, architecture and networks and protect its customers;
• To meet Panasonic's corporate and social responsibility objectives.
(xi) Any purpose as may be required by applicable laws.
(xii) To provide, maintain, protect, monitor use of, customize, measure and improve our services, Website and develop new services, content and advertising;
• to allow you (the End User) to participate in interactive features of our Website, when you choose to do so;
• to perform marketing and strategic development activities (including trainings) where the End Users have consented to be contacted by Panasonic for such purposes, mainly
(i) to send you offers and news about Panasonic's products, services, upcoming events, promotion, advertising, marketing and commercial materials which we feel may interest you including that of its related companies, affiliates and its selected business partners; (ii) to let you know about trainings that is coming up; (iii) to send you Panasonic newsletter;
• to conduct internal marketing analysis and analysis of Users' patterns and choices;
• to administer and communicate with you in relation to our services, promotions, events and/or trainings;
• to process your requested services;
• to administer and give effect to your commercial transaction;
• to ensure that the content from Panasonic's Website is presented in the most effective manner for you and your computer and/or device;
• for Panasonic's internal records management, User events and activities, and User loyalty reward program (if any)
• to prevent potentially prohibited or illegal activities, such as violation of applicable copy rights and trademarks law and / or to enforce the Terms of Use
• to conduct internal investigations, audit or security purposes;
• to comply with Panasonic's legal and regulatory obligations in the conduct of its business;
• to transfer, store and process your personal information that we collect from you at a destination across international borders as necessary for processing in accordance with Panasonic's standard business practices. By registering and submitting your personal information, you agree unconditionally and irrevocably to this transfer, storing or processing.
Panasonic may combine or aggregate any or all of the personal information with personal data or information including sensitive personal data or information, for any of the purposes set forth in this Privacy Policy, and the End User expressly consents to the combination, aggregation, amalgamation and merging of the Personal Information in the manner set forth herein.
3. Disclosure
3.1 Entities within Panasonic
Panasonic shall use commercially reasonable measures to protect Personal Information from unauthorized use or disclosure.
Panasonic however reserves the right to disclose the Personal Information including Sensitive Personal Data and Information to, inter alia, its partners, service providers, group companies, affiliates, vendors, customers, employees, agents, third party service providers who assist Panasonic, in connection with any of the 'purposes' set forth in this Privacy Policy.
Panasonic will endeavor to ensure that the recipient of the PERSONAL INFORMATION or SENSITIVE PERSONAL DATA OR INFORMATION utilizes the same level of protection measures as are used by Panasonic to preserve the security of the PERSONAL INFORMATION including the SPDI. The End User acknowledges that if the recipient is located in a country other than Bangladesh, then the level of protection afforded to PERSONAL INFORMATION and/or SENSITIVE PERSONAL DATA OR INFORMATION in such country may differ from the level of protection mandated under the applicable laws in Bangladesh, and the End User expressly consents to the disclosure of the PERSONAL INFORMATION including SENSITIVE PERSONAL DATA OR INFORMATION to such recipient(s) located outside the territory of Bangladesh. For the avoidance of doubt, PERSONAL INFORMATION shall not be 'transferred' by Panasonic to any person that does not ensure the same level of data protection that is adhered to by Panasonic as detailed in this Privacy Policy.
3.2 Classes of Third Parties
Your personal information may be disclosed to relevant third parties (in or outside of Malaysia) as required under law, pursuant to relevant contractual relationship (for example, where we appoint third party service providers) or for the purposes stated in Clause 2 above (or directly related to those purposes). Your personal information may be disclosed to the following classes of third parties:
• Third parties appointed by us to provide services to us or on our behalf (such as IT providers, software vendors, auditors, lawyers, company secretary, consultants, contractors, professional advisors, researchers, service providers, printing companies, conference/training/event organizer, other advisers, insurance companies);
• Our business partners or affiliates who may jointly provide the service requested for;
• Law enforcement agencies, including the local police; and
• Relevant governmental authorities, statutory authorities, local council and industry regulators.
In the event of a potential, proposed or actual sale of business, disposal, acquisition, merger or re-organization ("Transaction"), your personal information may be required to be disclosed or transferred to a third party as a result of the Transaction. You hereby acknowledge that such disclosure and transfer may occur and permit Panasonic to release your personal information to the other party and its advisers/representatives.
If Panasonic use these information in a different manner and purpose other than the purpose for which it was collected, then Panasonic will ask for your consent prior to such use.
Panasonic will have the right, to exercise in its reasonable discretion, to disclose or share the PERSONAL INFORMATION including SENSITIVE PERSONAL DATA OR INFORMATION with law enforcement authorities, regulatory bodies, and/or pursuant to any order of a regulatory or judicial authority, pursuant to any legal claims, actions, proceedings, suits, and/or to prevent any form of harm to a third party including injury to any person, and/or to prevent any illegal or unlawful or legally actionable activity. Panasonic may also provide PERSONAL INFORMATION including SPDI, in whole or in part, to any governmental, judicial, or regulatory authorities, including any tax authorities, pursuant to a valid claim or demand from them.
End Users acknowledge and agree that PERSONAL INFORMATION including SENSITIVE PERSONAL DATA OR INFORMATION collected by Panasonic, may be stored by Panasonic on its servers which may be located outside the End User's country of residence. By using Product(s), End Users consent to the storage of the same by Panasonic at its server(s) including storage and processing of PERSONAL INFORMATION outside of End Users' country of residence, according to and in consistent with this Privacy Policy. Recipients of PERSONAL INFORMATION including SENSITIVE PERSONAL DATA OR INFORMATION may be located in countries other than Bangladesh, and the level of protection afforded to PERSONAL INFORMATION including SENSITIVE PERSONAL DATA OR INFORMATION may differ under the applicable laws of such countries, and hence the protection measures utilized by such recipients in territories outside Bangladesh may also differ from the standards deployed and maintained by Panasonic. End User hereby expressly consents to the disclosure and/or transfer of PERSONAL INFORMATION including SPDI, pursuant to this Privacy Policy, with recipients located in countries other than Bangladesh. For the avoidance of doubt, PERSONAL INFORMATION shall not be 'transferred' by Panasonic to any person that does not ensure the same level of data protection that is adhered to by Panasonic as detailed in this Privacy Policy.
4. Security, Retention, Website
4.1 Security
Panasonic makes reasonable efforts and takes appropriate and adequate measures to maintain and improve security to ensure that personal information is managed safely and to protect against any unauthorized access or unauthorized alteration, disclosure or destruction of data it collects from the End Users.
Panasonic's security measures to protect the PERSONAL INFORMATION including SENSITIVE PERSONAL DATA OR INFORMATION are consistent with the industry standards and are commercially reasonable. The security measures implemented by Panasonic, inter alia, take into account, the state of the art of the technology, the costs of its implementation, the nature of the information, and the risk of the processing. However, End Users should take note that security measures cannot guarantee that the PERSONAL INFORMATION and/or SENSITIVE PERSONAL DATA OR INFORMATION provided by an End User will be one hundred percent secured. End Users are therefore advised to use their discretion in providing such personal and/or sensitive information to Panasonic and to absolutely refrain from providing SENSITIVE PERSONAL DATA OR INFORMATION if the same is not expressly requested by Panasonic or if the nature of the request or the purpose of provision does not necessitate the provision of any such information.
4.2 Retention
Panasonic does not keep personal information for longer than is necessary for those purposes for which they are collected.
4.3 Website, Cookies and Location Embedded Applications:
Panasonic may use external useful links and cookies on the Website and location embedded applications to keep a track of end-users' visit to the Website and other communications.
(a) Cookies
Panasonic collects Personal Data automatically through the use of cookies. Cookies are small text files that create notes about Internet browsing behavior and are installed in your computer or mobile device. This means that you can be recognized again and, for example, convenient Internet browsing and buying are facilitated, e.g., by avoiding having to sign in repeatedly and by positioning relevant advertisements. There are a large number of different cookies that serve specific purposes. Panasonic uses the following cookies on the Website: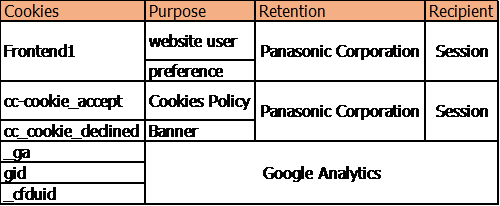 You can block cookies by activating the setting on your browser that allows you to refuse the setting of all or some cookies. You may withdraw your consent at any time by blocking the cookies in your browser.
Cookies improve an End User's browsing experience by:
• Remembering settings, so that an End User does not have to keep re-entering them whenever the End User visits a new page;
• Remembering information given by an End User so that the End User does not have to keep entering it;
• Analyzing how an End User uses the Products to improve the way it works, to make sure that the End User finds what such End User is looking for easily, and to ensure that it meets the End User's needs;
• Monitoring the efficiency of Panasonic's advertising.
If the use of such cookies is not acceptable to the End User, then such End User should adjust the browser settings (typically found in the 'options' or 'preferences' menu of the browser) or delete/disable the use of such cookies on the End User's device. The End User is however advised to take note that Panasonic may be unable to provide, make available, any or all of the Products if the End User chooses to disbar the use of cookies in accordance with the terms of this paragraph.
The End Users must take note that Panasonic sometimes uses external suppliers to deliver services on Panasonic's behalf, which means these cookies may be set by a third party (third-party cookies). Panasonic does not control these cookies so if an End User would like more information about them or information on how to opt out, such End User must see their individual privacy and/or cookie policy
Useful links:
• Microsoft Edge-- https://support.microsoft.com/en-us/topic/delete-and-manage-cookies-168dab11-0753-043d-7c16-ede5947fc64d
• Microsoft Edge-- https://support.microsoft.com/en-us/microsoft-edge/delete-cookies-in-microsoft-edge-63947406-40ac-c3b8-57b9-2a946a29ae09
• Firefox-- https://support.mozilla.org/en-US/kb/clear-cookies-and-site-data-firefox
•Chrome--https://support.google.com/chrome/answer/95647?co=GENIE.Platform%3DDesktop&hl=en
However, if you use your browser settings to block all cookies you may not be able to access all or parts of our site. If you continue with your visit to this site, you consent to the use of our cookies. You may also remove existing cookies from your computer.
(b) Links to other/ third party sites
Links to other sites is provided for your convenience and information. These sites may have their own privacy statement in place, which we recommend you review if you visit any linked websites. We are not responsible for the content on the linked sites or any use of the site.
End User acknowledges that Panasonic may make available, provide, embed links, promotions, notifications of third party websites, applications, platforms, products, services ("Third Party Site(s)"), on or through its Products, and that the access and use of such Third Party Sites are governed by the terms of use made available by the operator, owner, and controller of such Third Party Site(s). In the event that any PERSONAL INFORMATION or SENSITIVE PERSONAL DATA OR INFORMATION is collected, processed, dealt in, handled, transferred, shared, and/or disclosed by such Third Party Site(s) or the controller, owner, operator of such Third Party Site(s), then the End User acknowledges that the collection, processing, dealing in, handling, transfer, sharing, and/or disclosure of such PERSONAL INFORMATION including SENSITIVE PERSONAL DATA OR INFORMATION is governed by the privacy policy made available by the Third Party Site(s). The End User expressly acknowledges and affirms that Panasonic is not in any manner responsible or liable for any PERSONAL INFORMATION including SENSITIVE PERSONAL DATA OR INFORMATION that may be collected by Third Party Site(s) and/or that may be provided by the End User to such Third Party Site(s), and that Panasonic does not endorse or support such Third Party Site(s) including any products, services, or content offered on them.
(c) Location enabled applications
Location enabled products or applications transmit your location information to us. We do not use the information sent or provided other than to provide the service you request. Location enable features are opt-in and you have control over your participation and can turn these services off at any time or uninstall them.
Some mobile applications will utilize Google Analytics (or similar tool) to help us better serve you through improved products, services, and revisions to the mobile applications. This collected information will not identify you to Panasonic. It may, however, let Panasonic know anonymously, which services and features you are using the most within the application, as well as device type and hardware features, country and language of download.
5. Access, Correction and deletion
5.1 You have the right to access to your personal information, and to rectify the same if it is inaccurate or to delete such personal information, and to limit or object to the processing of your personal information.
5.2 You can view, correct, amend or update your personal information at any time from the settings in the Website under 'My Account' The End User will have the right to rectify, correct, update, or delete any PERSONAL INFORMATION provided to Panasonic, or collected by Panasonic, by addressing an appropriate written communication to such effect to the details provided in Clause 2(viii) above. Panasonic will correct or amend such PERSONAL INFORMATION, as feasible. If the End User chooses to delete any PERSONAL INFORMATION, then such End User agrees and acknowledges that Panasonic may be unable, make available or provide access to any or all of the Product(s) pursuant to such deletion.
5.3 You can revoke your consent or unsubscribe from emails sent to you by following the 'unsubscribe' link and/or instructions at the bottom of the marketing materials sent to you, or contacting us directly at info.bd@panasonicproclub.global at any time. Panasonic makes every effort to respond to your request as soon as possible. End User must be advised that the withdrawal from receipt of such communications may not be immediate.
5.4 If the End User has any concerns, grievances, queries concerning this Privacy Policy or any term hereof, including any changes, deletions, updates required to PERSONAL INFORMATION including SENSITIVE PERSONAL DATA OR INFORMATIONof such End User, then all of the foregoing should be addressed vide a written communication by the End User addressed [SCM Marketing] email at info.bd@panasonicproclub.global
5.5 Please be advised that any form of communication sent to this site, be it ideas, suggestions or any other e-mail, considered non-confidential and non-proprietary.
6. Changes to Privacy Policy
Panasonic reserves the right to update the Privacy Policy or any specific terms thereof from time to time including to align the terms of the Privacy Policy with Panasonic's then current business practices and Products. Unfortunately, it will be infeasible for Panasonic to notify the End Users in the event of such update(s), and it will be the End User's responsibility to review such updated Privacy Policy on this page. End User's continued use of the Products will be deemed to constitute the End User's unqualified and irrevocable acceptance of the updated Privacy Policy.
Copyright @ Panasonic Appliances Air-Conditioning (M) Sdn. Bhd, Malaysia. All Rights Reserved